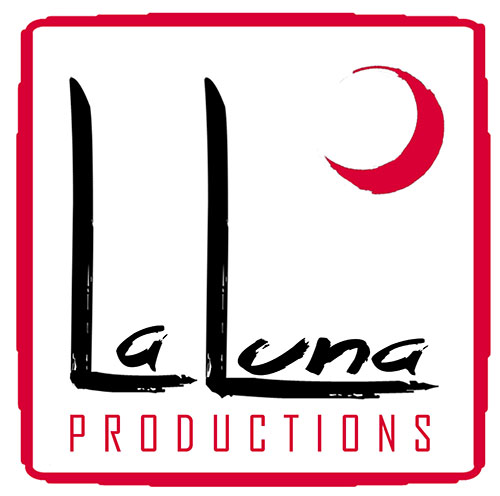 Presents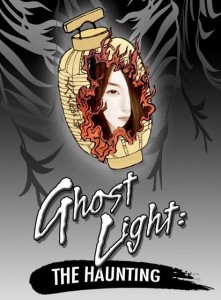 ---
The ghost of a Japanese-American actress returns to wreak vengeance on the ambitious husband who betrayed her

in this contemporary fusion of

Macbeth 

and the Kabuki

Yotsuya

 

Ghost

Tales

.
LA LUNA PRODUCTIONS PRESENTS
GHOST LIGHT: THE HAUNTING
A DIGITAL THEATRE EXPERIENCE
Inspired by Yotsuya Ghost Tales, Macbeth and the infamous Ghost Oiwa
Written By Award Winning Playwright Carol Fisher Sorgenfrei
Directed By Emmy Award Winner Penny Bergman
Conceived by Carol Fisher Sorgenfrei and Penny Bergman
Streams on Vimeo Halloween Weekend!
Thursday, October 28th at 8:00 PM EST through Monday, November 1st at 7:59 PM EST.  To Register/be notified when the Vimeo link goes live, join the RED MAILING LIST tab on the right side of the capemaystage.org homepage. Tickets are free. Donations are encouraged and appreciated.
Spend a haunting Halloween with Japan's most terrifying female ghost! The true tale of Oiwa's undying vengeance is the original J-Horror story, retold here with a contemporary twist. A Japanese-American actress returns from the dead to wreak vengeance on the ambitious husband who betrayed her in this original play fusing Macbeth and the Kabuki Yotsuya Ghost Tales.
This digital experience is presented by La Luna Productions as a fundraiser/benefit for Cape May Stage with a portion of the donations going to stopasianhate

and

stopaapihate.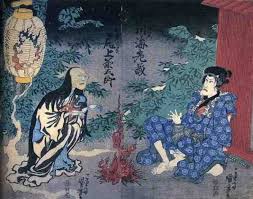 CAST
Keiko Tamiya//Jonathan Hecht—Elaina Davis
Bryan Eamon Quinn –Mark Campbell
Lynn Berry – Michi Barall
Hellen Gates Porter –Marlena Lustik
Entertainment Guru –Mami Kimura
Detective – Michael G. Chin
Ross –Peter Lundin
Lennox –Gerardo Vallejo
"Revealing any more of the story of the delightful and chilling production would not only be unfair to you, but would very likely anger at least one very temperamental theater ghost… the perfect recipe for a goosebump-filled evening."   – ScreamQueenz
"fresh, modernized take as play-within-a-play of two Broadway-bound theatre stars with chilling yet cheeky homages to kabuki and Shakespeare's Macbeth… delivering a genuine cross-cultural celebration of the revenge genre… hooked us into this pleasantly unpredictable theatrical experience from start to finish". – theasy.com

"If you are looking to get spooked-out theater style, then this is for you… loads of suspense and unexpected things that happen that will startle and rattle you and keep you on edge."    – The Examiner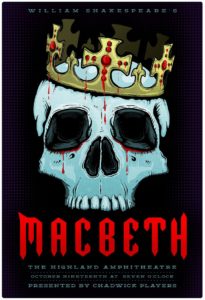 Set in contemporary New York, Ghost Light: The Haunting tells the tale of Japanese-American actress Keiko, Oiwa's direct descendant, is brutally betrayed by her ambitious actor husband Bryan. Eerily re-enacting Oiwa's tale, Keiko's ghost haunts Bryan as he attempts to navigate a high-profile Broadway production of Macbeth. His life begins to unravel in ways that parallel the witchery and horror of Shakespeare's Scottish king as Keiko's ghost seeks revenge.
Replete with glamour, betrayal, blood and irony, the Off-Broadway production of Ghost Light: The Haunting was New York Metro's featured Halloween "must see" for 2015.
Performances of Ghost Light stream continuously for only four days:
Thursday October 28th at 8:00 PM EST through Monday November 1st at 7:59 PM EST.
We wish to express our gratitude to the Performers' Unions:
ACTORS' EQUITY ASSOCIATION
AMERICAN GUILD OF MUSICAL ARTISTS
AMERICAN GUILD OF VARIETY ARTISTS
SAG-AFTRA
through Theatre Authority, Inc. for their cooperation in permitting the Artists to appear on this program.
For more information email: ghostlightcapemay2021@gmail.com
---